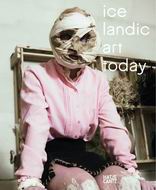 Icelandic Art Today
Icelandic Art Today introduces fifty important protagonists of
contemporary art , among them Finnbogi Pétursson, Gabríela
Fridriksdóttir, Helgi Thorgils Frídjónsson, Sigga Björg
Sigurdarðóttir, Icelandic Love Corporation, Katrín Sigurdardóttir,
Margrét H. Blöndal, Sigurður Guðjonsson, Ólafur Ólafsson +
Libia Castro, Ragnar Kjartansson, Rúrí, Steingrímur Eyfjörd
English
2009. 336 pages, 356 colored images
24,50 x 29,70 cm
hardback
€ 49.80
ISBN 978-3-7757-2295-7
The Sourcebook of Contemporary Illustration
The Sourcebook of Contemporary Illustration
features the best contemporary illustrations and illustration techniques from around the world. This cutting-edge anthology from Yaiza Nicolas and Andres Gonzalez Fernandez includes both established and emerging illustrators and hundreds of full-color examples of their artwork, catagorized according to theme and organized in a visual index for quick reference.
English, London, 2009. Hardcover. Harper Collins